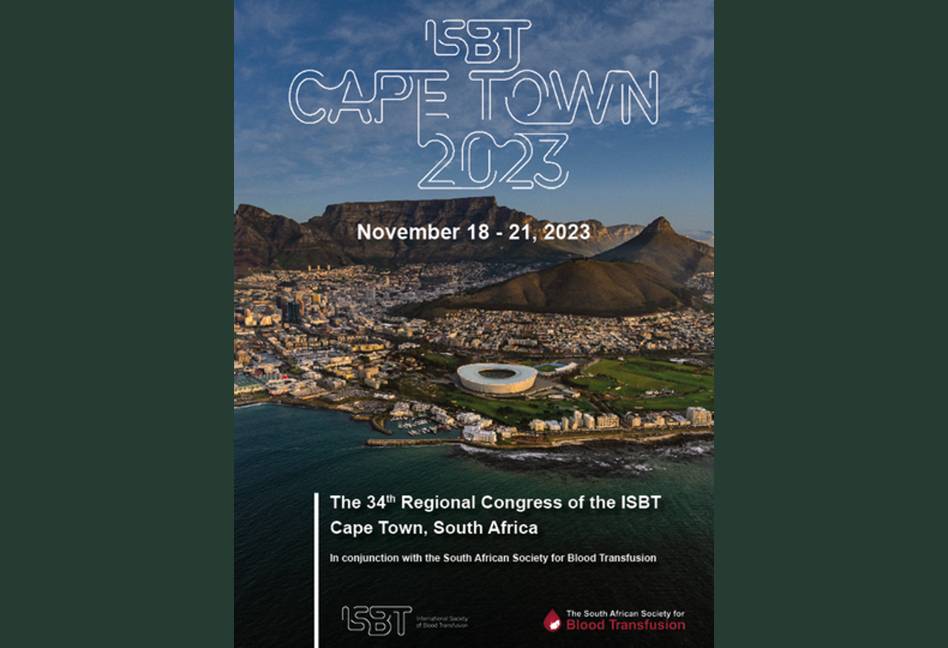 The 34th Regional ISBT Congress

ISBT is excited to welcome you to Cape Town, South Africa, from November 18-21, 2023. Our board members, working parties, sponsors, and support teams are already working at full steam on preparations for the ISBT Cape Town Congress.
Registration is now open for the ISBT Cape Town!
Join the 34th Regional ISBT Congress in Cape Town for an unforgettable Transfusion Medicine Experience
The South African Society for Blood Transfusion, the ISBT Board of Directors, and the ISBT Central Office are proud to announce the 34th Regional ISBT Congress, which will take place from November 18-21, 2023, in Cape Town, South Africa.
This highly anticipated transfusion medicine congress will bring together experts and professionals from all over the world to share their latest research, ideas, and experiences in the field. Attendees will have the opportunity to learn from and network with the best in the transfusion medicine community.
The ISBT Scientific Secretary, Jason Acker, and the local organising committee are developing an exciting programme that will provide knowledge-sharing opportunities ranging from cutting-edge science to the challenges of delivering comprehensive blood services in resource-constrained environments. The program will include content with special relevance to Africa on day one, followed by the main programme of scientific sessions, academy sessions, workshops, and poster presentations on days two to four. The Congress will also feature a comprehensive trade exhibition, which will host the Sunday evening welcoming gathering.
Registrations and abstract submissions for the Congress will start on May 15th, and we encourage all transfusion professionals and colleagues to participate in this unique event. With the Congress taking place in Cape Town, attendees will also have the opportunity to experience the city's natural beauty, vibrant culture, history, great weather, and affordability.
"We are excited to welcome our colleagues from around the world in Cape Town for the 34th Regional ISBT Congress," said the local organising committee. "The Congress will provide an excellent platform for knowledge-sharing, networking, and professional development. We look forward to hosting you at this unforgettable event."
Don't miss out on this exciting opportunity to learn, network, and experience Cape Town.
Why You Should Attend?
Make more global connections and forge valuable, long-lasting links with transfusion medicine professionals from across the world. Learn from real cases and research; attend live and on-demand sessions for the latest developments in all areas of transfusion medicine.
Join experienced professionals in transfusion medicine and cellular therapies from around the world to learn and connect.
Register now at https://www.isbtweb.org/events/isbt-cape-town-2023.html
Early registration discounts available until October 2.
About ISBT
ISBT is an international society with members from around 100 countries. Anyone involved in any aspect of transfusion medicine and related disciplines can become a member whether working in blood services, hospitals, research institutes, universities or industry. All professional groups within the field of transfusion medicine are represented. The aims of ISBT are:
To connect blood transfusion professionals
To provide opportunities for exchanging information and knowledge related to blood transfusion
To promote and maintain a high level of ethical, medical and scientific standards in blood transfusion medicine
To support safe and sufficient transfusion therapy globally
The main activities of ISBT include annual congresses, education through the ISBT Academy which organises or supports workshops and educational events around the globe, e-learning opportunities via ISBT Education and 15 Scientific Working Parties promoting science, research and best practice across the transfusion chain.
Do you have any questions? Visit the Congress website https://www.isbtweb.org/events/isbt-cape-town-2023.html or contact us:
ISBT Marketing and Communications
marketing@isbtweb.org communications@isbtweb.org